Welcome to CCL!
---
   News and Achievements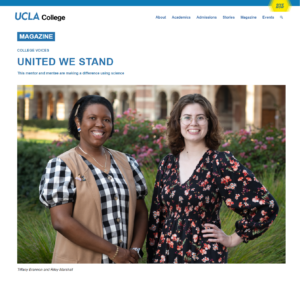 "United We Stand". Check out this article, a research mentoring profile on Dr. Tiffany Brannon and Riley Marshall.
---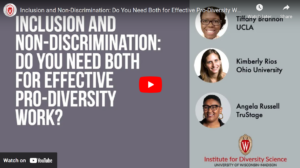 Inclusion and Non-Discrimination: Do You Need Both for Effective Pro-Diversity Work?
In this recording of a June 14, 2023, webinar, we hear from Tiffany Brannon, Kimberly Rios, and Angela Russell about approaches to inclusion and non-discrimination and how they can be employed for effective pro-diversity work.
University of Wisconsin, Madison
Institute for Diversity Science
---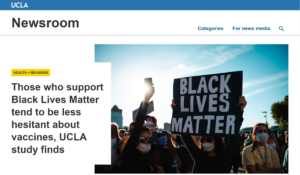 Read about our research featured in a UCLA Newsroom article "Those who support Black Lives Matter tend to be less hesitant about vaccines, UCLA study finds". (April 2023)
---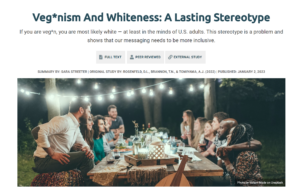 ---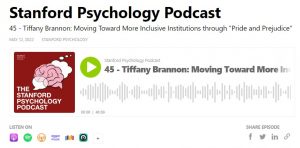 Listen to Dr. Tiffany Brannon discuss her recent article titled "Pride and Prejudice" Pathways to Belonging: Implications for Inclusive Diversity Practices Within Mainstream Institution" and more with the Stanford Psychology Podcast Here! (May 2022)
---
White Intraracial Communication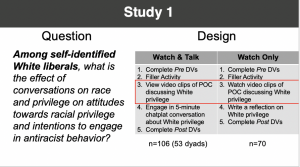 Peter Fisher presented research on white intraracial communication at the 2022 annual meeting of the Society for Personality and Social Psychology: It is well known that intergroup contact can be an effective tool in reducing prejudice, but less is known about how intragroup contact impacts beliefs about race and racism. I am investigating the effect of Whites discussing race on prejudice, racial hierarchy beliefs, and political attitudes, and whether an intervention can change the outcomes of these conversations. I am interested in better understanding how often conversations about race occur in all-White contexts and the conditions in which these conversations reinforce existing biases or increase awareness of racial inequity. A major goal of this research is to develop intervention techniques that promote productive conversations about race within White social groups. 
---
Anti-racism Strategies & Vaccinations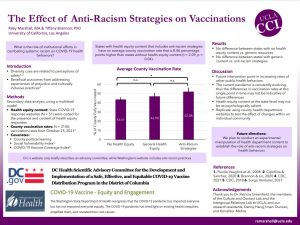 SPSS_2022_Effect of Anti-racism Strategies on Vaccinations_pdf
Riley Marshall presented anti-racism research at the Intervention Science Pre-Conference during the 2022 annual meeting of the Society for Personality and Social Psychology: I am interested in leveraging institutional diversity cues to improve trust and health behaviors. My current research looks at how such cues (specifically, anti-racism strategies within health departments) are related to COVID-19 vaccination rates, and if this is occurring through trust in medical systems. I hope to build this line of work with additional studies in a variety of contexts to more directly show the relationship between institutional diversity cues, institutional trust, and individual behaviors.
---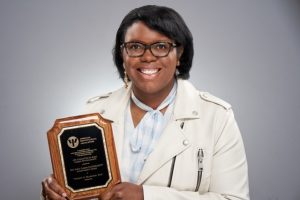 Congratulations to Dr. Tiffany Brannon, recipient of the Society for the Psychological Study of Social Issues (SPSSI) 2021 Early Career Award! Read more about the award announcement from SPSSI or UCLA. (August 2021)
---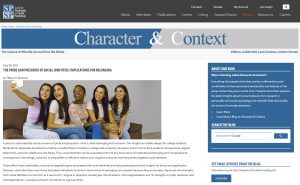 Read Dr. Tiffany Brannon's article " The Pride and Prejudice of Social Identities: Implications for Belonging" Here!
(August 2021)
---
Expanding Masculinity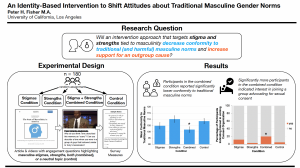 Peter Fisher presented masculinity research at the 2021 Society for the Psychological Study of Social Issues Conference: I am currently studying the effects of expanding the definition of masculinity to be more inclusive of prosocial intergroup behaviors. I am especially interested in understanding the effects of making masculinity more inclusive in all-male contexts where harmful masculine norms are usually reinforced. One of the aims of this line of work is to create identity-based interventions that motivate men to be allies in confronting sexism.
---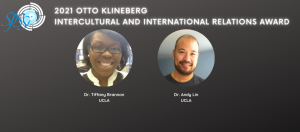 Congratulations to Drs. Tiffany Brannon and Andy Lin for receiving the SPSSI Otto Klineberg Intercultural and International Relations Award for their article titled "Pride and prejudice" pathways to belonging: Implications for inclusive diversity practices within mainstream institutions." (May 2021)
---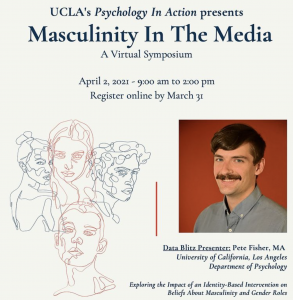 Pete Fisher's Virtual Symposium: Masculinity In The Media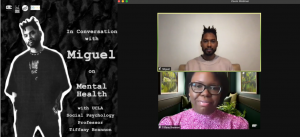 Miguel is a multi-Grammy award winning and nominated R&B artist. Tiffany N. Brannon, PhD is a faculty member in the Department of Psychology at UCLA, with degrees from Stanford University and Florida International University. Through an event organized by UCLA CEC, Dr. Brannon had the honor to interview Miguel and have a stimulating discussion on mental health. Topics discussed included personal mental health, generational and cultural differences, stigmas in marginalized communities, self care and more! (January 2020)
---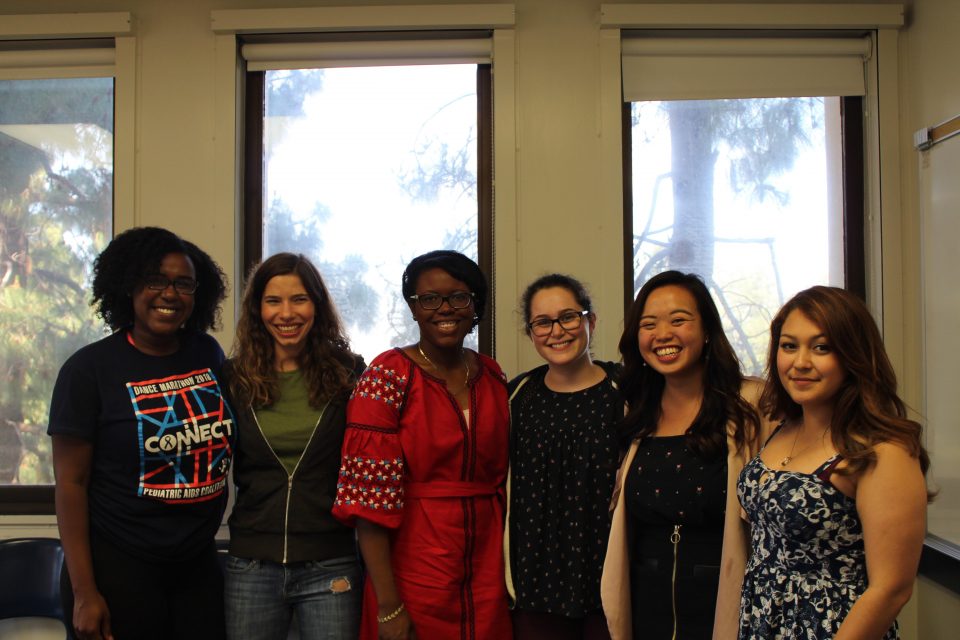 Congratulations to CCL's graduating seniors: Dreama, Isabel, Rhiannon, Tracy, Evelyn, and Matt! (Spring 2018)
---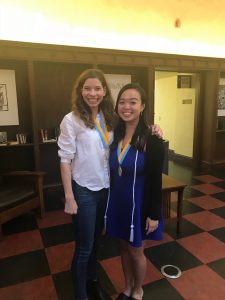 Congratulations to Tracy Saw and Isabel Leamon for being awarded the UCLA Dean's Prize Award for their presentations during Undergraduate Research Week! (Spring 2018)
---
Read Dr. Tiffany Brannon's article "Science Without Disciplinary Borders: How my Interests in the Humanities Have Strengthened my Psychological Science" here! 
---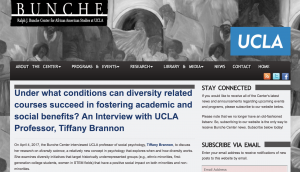 Read Dr. Tiffany Brannon's  article for the UCLA Bunche Center here!
---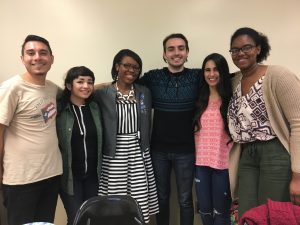 Congratulations to CCL's graduating seniors (Eduardo, Frida, Aaron, and Shani)! (Spring 2017)
---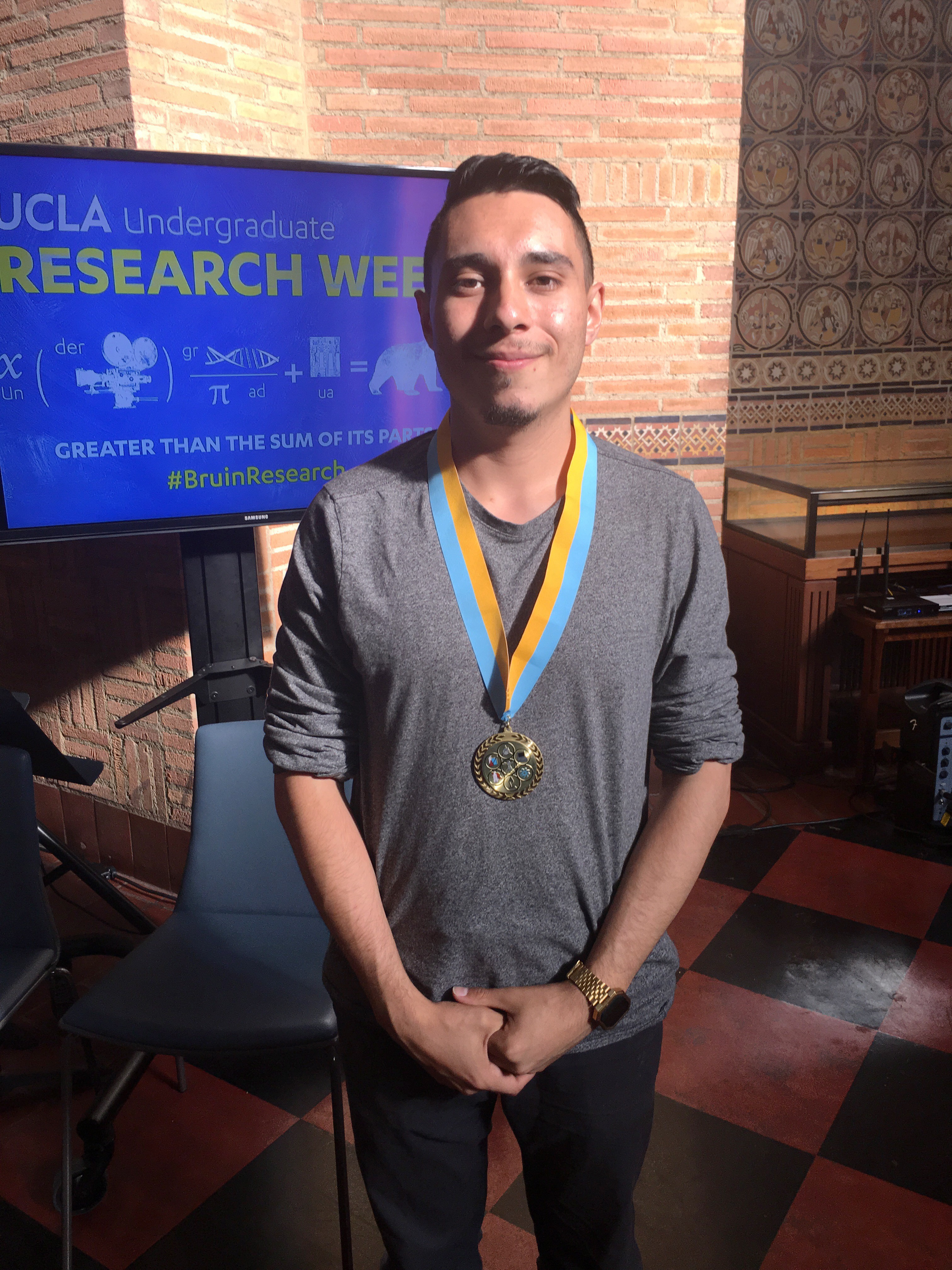 Congratulations to Eduardo Lara for being awarded the UCLA Dean's Prize Award for his presentation during Undergraduate Research Week! (Spring 2017)